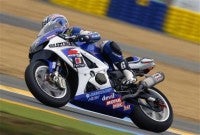 Félicitations à la Team Suzuki n2, composée de William Costes, Barry Veneman et Guillaume Dietrich qui ont remporté ces 24 heures du mans moto, 1ère épreuve du championnat du monde d'endurance 2008. Congratulations to Team Suzuki n2, composed by William Costes, Barry Veneman and Guillaume Dietrich who won the 24 hours of mans motorcycle, 1st test of World Championship endurance 2008. Pour fêter ça, Crazy Moto vous offre l'opportunité de dialoguer en direct avec Guillaume, ce mercredi à 20h. To celebrate it, Crazy Moto offers the opportunity to chat with Guillaume, this Wednesday at 20h.
Avec 11 tours d'avance sur la seconde équipe, la team suzuki n1, c'est une très belle performance non seulement pour Guillaume Dietrich et William Costes, vainqueurs de l'année dernière, mais aussi pour le novice Barry Veneman qui fait une entrée très prometteuse. With 11 laps ahead of the second team, the team suzuki n1 is a very good performance not only for Guillaume Dietrich and William Costes, winners of last year, but also for the novice Barry Veneman who made an entry very promising. C'est aussi des résultats fracassants de la part des Suzuki, qui s'impose réellement sur cette compétition, avec 4 machines dans les 5 premières. It also results fracassants from Suzuki, which is really necessary on this competition, with 4 machines in the first 5.
Pour nous faire part de ses impressions sur cette course éprouvante et riche en émotions, Guillaume Dietrich, dont notre partenaire Motoshopping est le sponsor officiel, passera sur le forum compétition de Crazy Moto pour répondre à vos questions et vous faire part de ses impressions sur la course. To share his impressions on this course challenging and rich in emotion, Guillaume Dietrich, including our partner Motoshopping is the official sponsor, will pass on the forum competition Crazy Moto to answer your questions and to share his impressions on the race. Ce sera mercredi à 20h, sur ce sujet. This will be Wednesday at 20h on the subject.

Ne ratez pas l'occasion de rencontrer ce champion, vous ne la rencontrerez surement pas deux fois ! Do not miss the opportunity to meet the champion, you probably do not meet twice! À mercredi donc… Affaire à suivre… At Wednesday therefore… Case to follow…